Hilman OT/NT/T Series Individual Rollers
The OT/NT/T-Series Hilman Rollers are the no-frills type of rollers that, if necessary, can be easily modified to custom suit your application. 
They are typically used in semi-permanent and permanent type applications, with or without guidance; such as on a Die Transfer Cart or as bearing for a thermal expansion joint.
Standard designs can have one or more modifications added to them to create a unique product.
It should be noted that this series is related to the Wide Body-Series and the Super Heavy Duty-Series Hilman Rollers.

Basically, the designs are all similar to one another.
OT-Series rollers have an Oversized top that extends over the sides of the roller frame. 
NT-Series rollers have a Narrow top that extends over the ends of the roller frame. 
The tops of the OT & NT-Series rollers have standard hole patterns.
T-Series Rollers have tops that are flush with the roller frame on all sides. 
These are considered to be ideal for cavity-mount type applications.
OT/NT/T-Series rollers range in capacity from .75-tons up to 75-tons.
OT Dimension Chart

NT Dimension Chart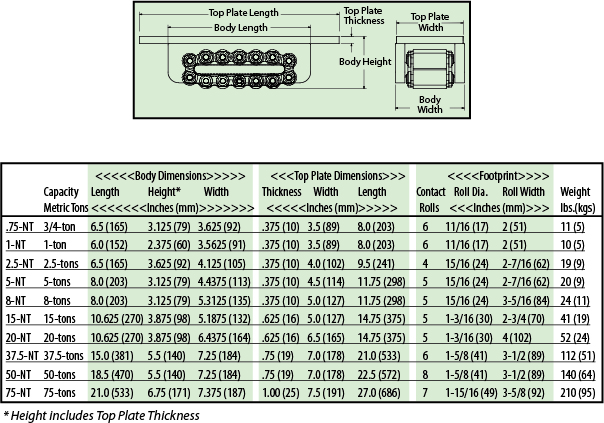 T Dimension Chart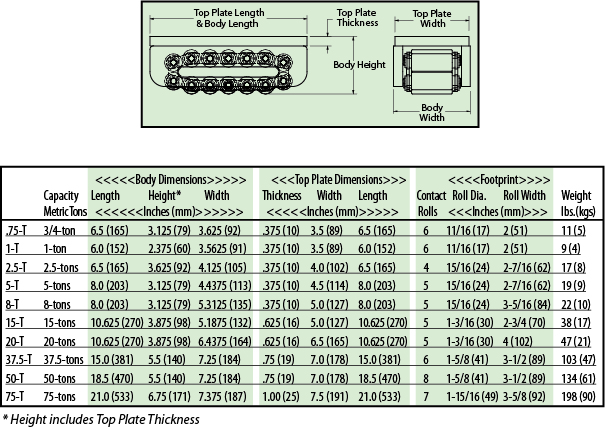 The Full List of Options and Modifications for Hilman Load Rollers is:
Accu-Roll
Corrosion Resistance
Hydraulic Integration
Keyway Rollers
Rocker Tops & Turntables
Tapered Radius Rollers
Wipers
Pads
Please contact your nearest Specialised Force Branch for more information: https://www.specialisedforce.com.au/contact