Durapac DRJ Hydraulic Track / Rail Jack (Toe Jack)
The DRJ-10 Track Jack is ideally suited to aligning, gauging and lifting of rail or sleepers.
Forged aluminium upright base.
10 ton* capacity track jack.
Robust.
Lightweight.
Reduce the risk of operator injury.
Spring return mechanism that will allow a jack with no load to be returned to the retracted position.
Fitted with an internal safety pressure relief valve to protect against overloading.
The bladder system inside the aluminium protected reservoir allows the jack to be used in both the horizontal and vertical positions making it exceptionally versatile.
Specifications
Model No.
DRJ-10


Capacity (kg)
9,072


A - Collapsed Height (mm)
373


B - Extended Height (mm)
598


Stroke (mm)
225


Travel/Pump Stroke (mm)
4.5


Max Handle Effort (kg)
36


L x W Dimensions (mm)
Base
280 x 152


Toe
66 x 79
Unit Weight w/o Handle (kg)
20.2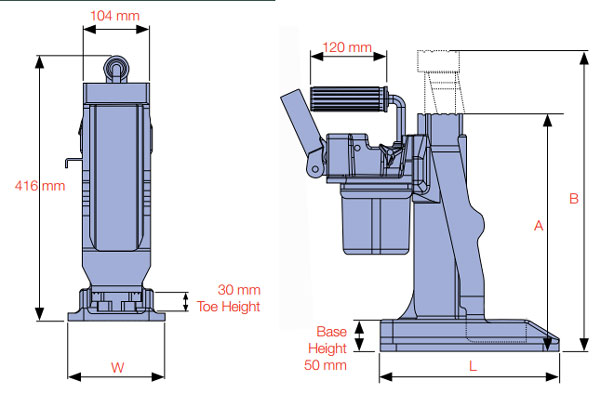 Click on the link to download more information on the Durapac DRJ-10 Hydraulic Rail Jack.