Specialised Force 40th Anniversary
The management and staff of Specialised Force are pleased to announce that we are celebrating our 40th anniversary in May 2022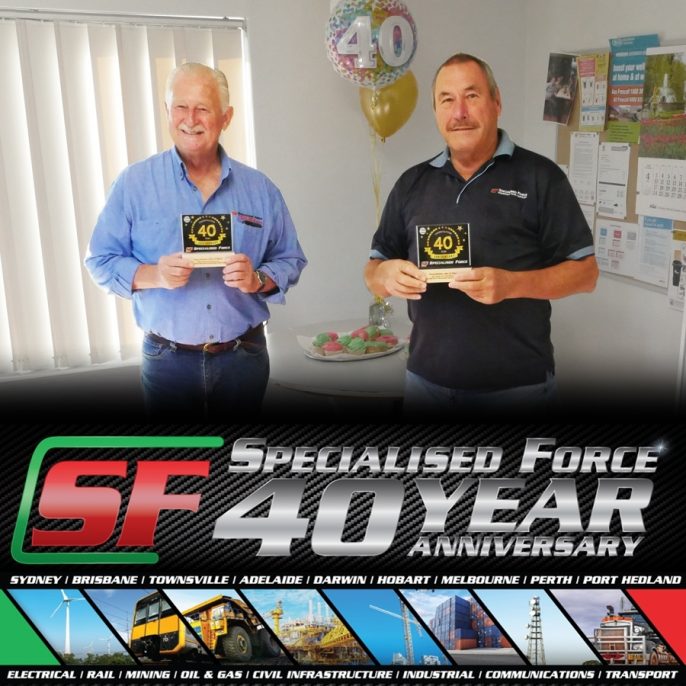 10 June 2022
Due to Specialised Force reaching this milestone, we wish to express our sincere appreciation to all our valued customers for their loyal support over the past 40 years.
When our company was founded in May 1982, we did not foresee that 40 years later Specialised Force would expand throughout Australia and grow from a single office/workshop branch with only a few employees to nationally acclaimed business.
Without the loyal support and hard work of each member of our team, Specialised Force would not have achieved the many impressive milestones and overcome the numerous challenges it has faced over many years of commercial trading. In short, our people have made us what we are today.
Specialised Force has grown to become a major Australian product, service and solutions provider of specialised high pressure hydraulic, electrical & contractor tooling/equipment, and many other specialised products. This includes for example, synchronised lifting systems, specialised torque tooling & equipment, heat exchanger equipment, pipe maintenance equipment, and overhead/underground power installation equipment.
The past 40 years have reinforced the path that guides us today and helps us to continually pursue a "complete system" approach, which aims to carefully match and configure products, services & solutions that ultimately ensure the delivery of safe and efficient outcomes for our valued Customers across multiple Industry sectors.