Riken UH14/UH22 Series Ultra High Pressure Nylon Hoses
Ultra high pressure hoses with a maximum operating pressure of 2000 bar.
Specifications
Model No.
UH14
UH22
Max. Operating Pressure (bar)
2000
Operating Temperature Range (°C)
-40 to +50
Hydraulic Oil
General Hydraulic Oil
Material
Plastic
Thread Size
M14 x 1.5
M22 x 1.5
Standard Overall Length (m)
1/2/3/6/10
Volume (cm³/m)
19.6
Expansion Volume (cm³/m)
3.2
Min. Bend Radius (mm)
120
Approx. Weight (kg/m)
0.3*
*The approx. weight represents the weight of the hose alone. It does not include the joints at both ends and the protection.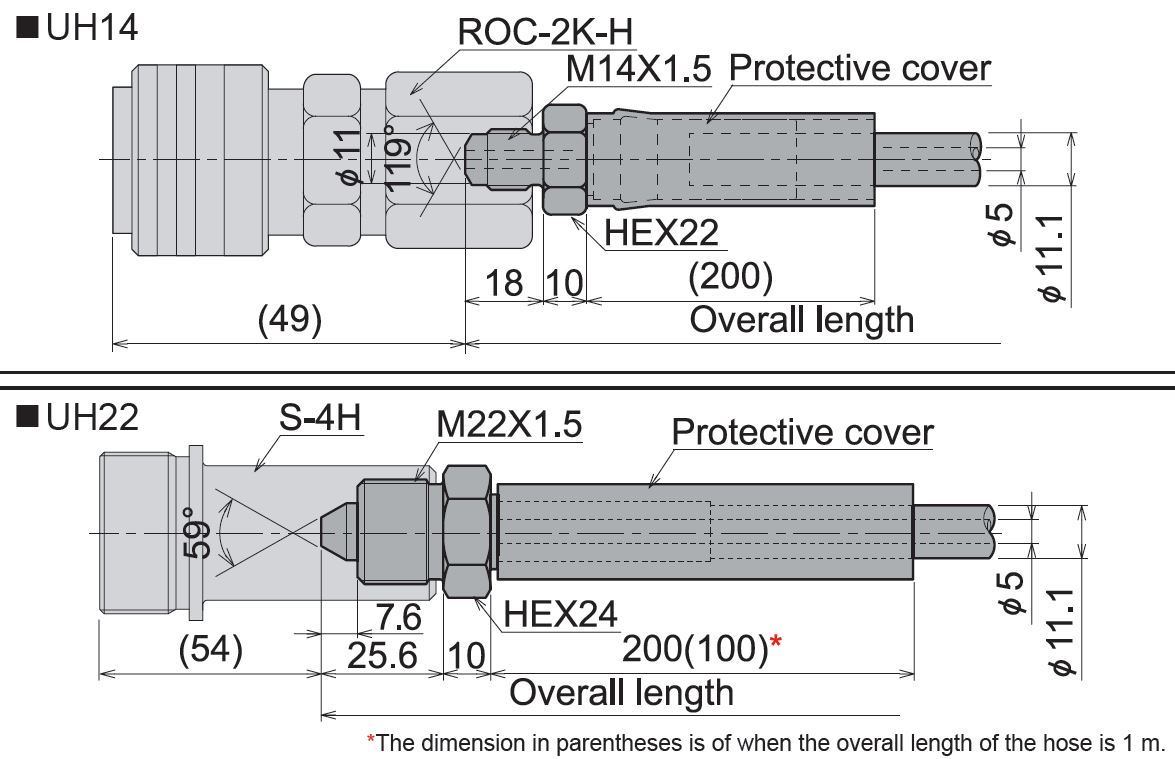 WARNING!
Do not hold an ultra high pressure nylon hoses while pressure is applied. If the hose is broken while held by hand, the high-pressure hydraulic oil could spurt and cause severe injury, for example, a pierced hand.
Before work starts, check the following: damage to the hose, swelling of the hose (sheath), exposure of the reinforced layer (external damage), bent (deformation), leakage from the joints, etc. If any of the mentioned problems is found, replace the hose with a new one immediately because the use of a damaged hose is dangerous. Even if there are no abnormalities in appearance, there may be scratches, pinholes, etc. inside the hose. Replace the hose regularly taking the operating conditions into account.