Jung Transport Trolleys: Custom Construction on Track
JUNG has 45 years of experience in the developing and manufacturing of rigging equipment. Transport and lifting devices are proven to be essential tools in all areas in which the movement of heavy loads is required.
It is not always possible to use the standard equipment for any kind of application.
JUNG takes the challenge to develop innovative products for special tasks.
A customer in the industrial machinery industry required a tandem transport trolley in order to move a heavy jaw crusher weighing 61.7 tonnes.
This tandem trolley was necessary to transport the heavy jaw crusher from one workstation to another.
Basis for the tandem trolley were two standard 20 tonne steering trolleys connected with tracking rods. Together with a customised drawbar this assembly allowed the customer to move the load easily.
Due to the construction of the custom tandem trolleys, it is even possible to tow the whole jaw crusher using a tractor (for example) while the conveyor remains in its inclined position.
The company also required the jaw crusher to be lifted but were faced with a challenge in doing so as the machinery had large sagging tracks on each side. JUNG found a solution using a combination of industrial hydraulic tools to provide the lift in one working step.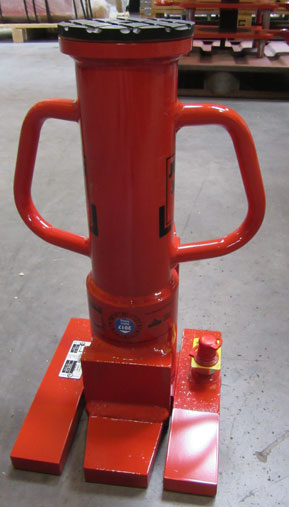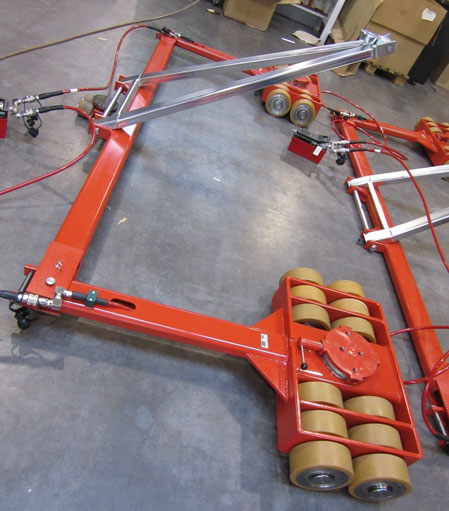 Jung provides transport trolleys that are ISO 9001 certified, high quality and come with a 5 year warranty (when the products are used as directed). As well as a wide range of transport trolleys, Jung also provides a range of toe jacks amongst other load shifting apparatus.