COVID-19 Response Statement
Dear Valued Business Partner
In a rapidly changing COVID-19 environment, the Specialised Force Management Team and Staff are conscientiously monitoring and reviewing the evolving implications of the COVID-19 pandemic. Against this backdrop, we have been very proactive in developing and implementing the appropriate actions across our Australian Branch operations to ensure the health, safety and wellbeing of our People, Business Partners and Communities at large, whilst confronting and managing our business continuity challenges to facilitate fluid, reliable and seamless operational capabilities throughout our Facilities during these challenging times.
Whilst the health, safety and wellbeing of people will always be our highest priority, of tremendous importance to Specialised Force is the health and continuity of our business along with that of our Customers and Suppliers.
The key PILLARS characterising the Specialised Force response can be summarised as follows:
• The immediate adoption of workplace management and operational working arrangements (e.g. Social Distancing, Self-Isolation, Hygiene, Business Meeting protocols, Site Visit protocols, etc) complying with the advice and/or directives of Government and/or Health Authorities in Australia and Internationally.
• All visitors to Specialised Force facilities are asked to ensure appropriate COVID-19 health & safety transparency and vigilance prior to arriving at our premises. We ask Visitors to respect our position of only allowing people to enter our sites who are not infected nor reflect symptoms associated with the COVID-19 virus. Once at our facilities, our defined health, safety, wellbeing and hygiene protocols are to be adhered to.
• Consistent with the requirements of the "Essential Services Act 1988 No 41" Specialised Force remains focused on proactively supplying our Products, Services and Solutions to our "Essential Services" Customers, as they also consider Specialised Force to be an "Essential Service". We remain committed to "doing our part" to service all our Customers and sustain economic activity which is vital to weather the prevailing economic impact induced by the COVID-19 pandemic.
• Our Management Team are conducting ongoing reviews of our continuity & contingency plans incorporating potential people health/safety/wellbeing risks and solutions, the needs of our Customers, working closely with our Suppliers to overcome supply constraints, constantly assessing the security of our Supply Chains along with the seamless functioning of our Business Operational Systems and Processes.
• Regular COVID-19 Communication with our People, Customers, Suppliers and Contractors as necessary to ensure consistency of our actions and outcomes.
These are unusual and trying circumstances and we understand this. Specialised Force remains committed to working through the challenges which confront our partnership in a safe, collaborative and proactive manner. Our Management Team and Staff remain committed to providing the service and support you have come to expect from us during our partnership to date. Rest assured we will continue to stay in touch as the situation evolves and we trust our communique provides the clarity and confidence you deserve to assure you Specialised Force remains at your disposal as we confront these challenges together.
Should you have any further questions please do not hesitate to contact your local Specialised Force Branch.
Kind Regards,
Specialised Force Management Team & Staff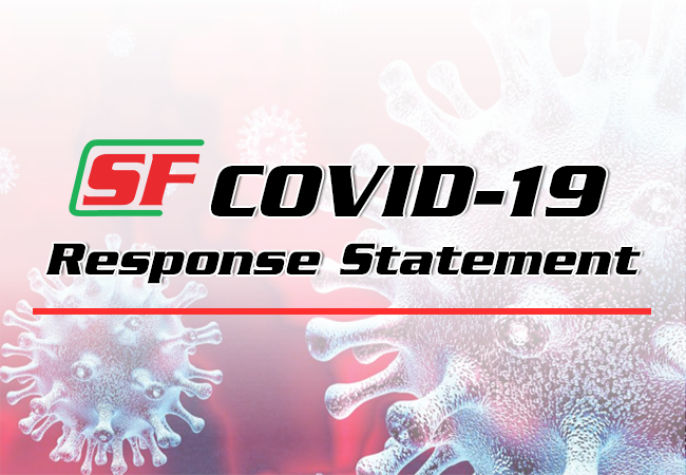 3 April 2020