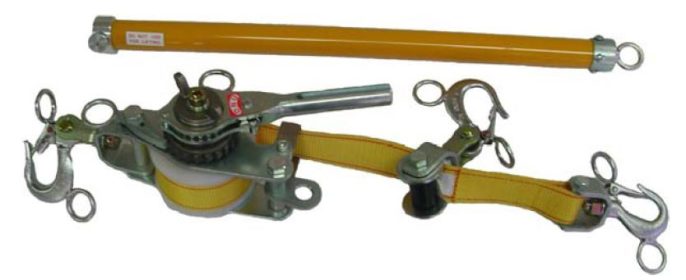 MODEL N-1500P-EX-H has rings on the latch and the hook for use on energised lines. Hot sticks easily manoeuvre the latch and hooks. It is convertible with 3 hooks for live line work. Each hook has 2 rings, one on the hook and one on the latch. A ring is provided on the end of the 570mm overall length detachable insulated FRP handle, another on the ratchet pawl, and another on the reversing pawl.
MAXIMUM LENGTH OF STRAP: SINGLE - 3500mm
MAXIMUM LENGTH OF STRAP: DOUBLE - 2000mm
STRAP DIMENSIONS: 40mm x 2mm
HANDLE LENGTH (DETACHABLE): 570mm
WEIGHT WITHOUT HANDLE - 4.60 KG
WEIGHT WITH HANDLE - 5.25 KG
CAPACITY SINGLE: 7.5Kn
CAPACITY DOUBLE: 15Kn
$740.00 (ex GST)
We have 2 left in stock.
Email us about this product
Or call Brisbane on (07) 3256 6011
Or call Townsville on (07) 4728 8756