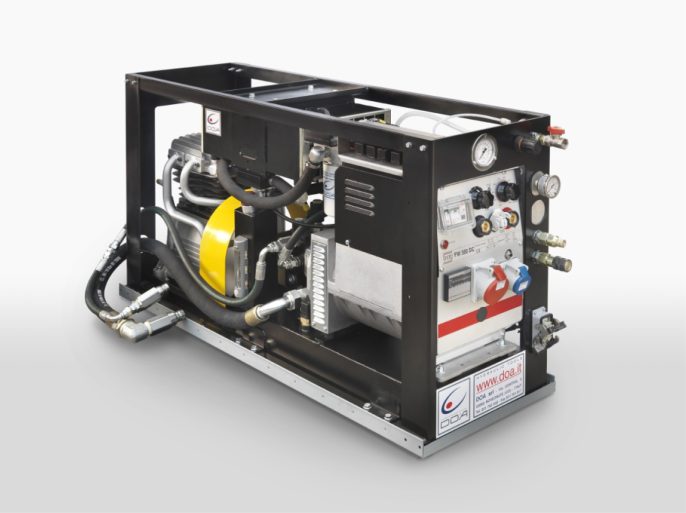 DOA Trident Hydraulic Power Unit
The DOA Trident is a compact accessory for trucks and vans designed to supply electric, pneumatic and hydraulic power anywhere, at low cost.
The DOA Trident exploits the power of truck engines, transforming them from normal transportation vehicles into real work vehicles. Any truck with a hydraulic PTO system of 36-42l/min at 180-210 Bar can be fitted with the Trident unit, which is powerful, quiet, versatile, economical, and has minimal maintenance requirements. The DOA Trident consists of three main parts: - one welding/generator unit with hydraulic motor - one compressor head with hydraulic motor - one hydraulic power pack complete with separate oil tank, valves, cooling system, oil filter and quick couplers. A 12 volt electric circuit with control panel completes the unit. All parts are installed into a compact frame that assures easy positioning on board service trucks, military vehicles, rescue vehicles, military vehicles, offroad vehicles, mobile workshops, EPV's and anywhere that portable power is required.
Maximum capacity:
Hydraulic Outlet: 150 Bar (At maximum flow of the host vehicle)
Welding Power: Max 300 Amp adjustable.
Electric Power: 10KVA in three phase, 4KVA in single phase.
Pneumatic Power: 10 bar @ 600l/min
Dimensions: 150 x 450 x 70 cm

Weight: 200kg wet
$8,850.00 (ex GST)
We have 2 left in stock.
Email us about this product
Or call Perth on (08) 9354 8544
Or call Sydney (Head Office) on (02) 9547 1844