Balmoral WM-RW Series Overhead Conductor Warning Markers
The Balmoral Warning Marker is a purpose designed Hi Visibility Line Warning Marker ideal for low hanging wires, construction zones, low flying agricultural aircraft and many other applications.
The 3D Design with reflectors enables vision from all angles as the marker flag rotates with a breeze.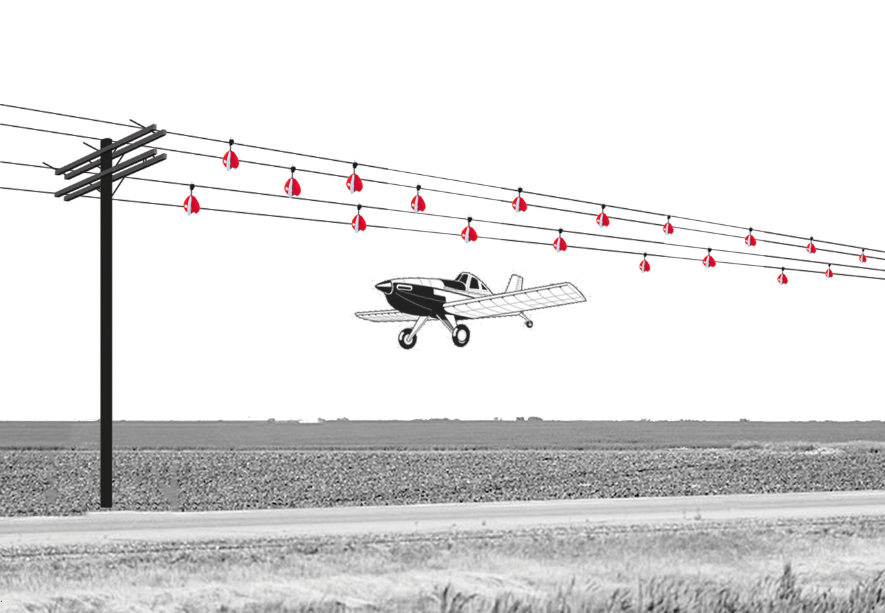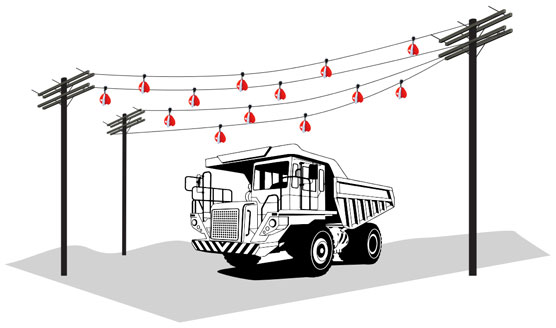 What is the strength of the clamp?
Nylon 6 is a high strength material that has been used in the Electrical Industry for various connectors and clamps for over 30 years.
It has also been used in many industries where High Strength is required, including the Motor Industry for various vehicle components such as Water Pumps etc.
Will the flag make a whistling sound when spinning?
The Warning Marker has been tested in a wind tunnel at varying wind speeds of up to 30m/s and during testing did not produce any noise.
What is the UV resistance?
Nylon 6 has been used in the Electrical Industry for over 30 years in various outdoor components and clamps.
It includes UV stabilisers and has been proven to be very stable in outdoor conditions.
All the metal components are made of Stainless Steel or Brass and are known to be very durable in outdoor conditions.
Will the clamp damage the cable when tightened?
No. All Clamping Components are manufactured in high strength Nylon 6 (not metal) and the Clamp Fingers are lined with rubber which will mould around the conductor and not crush or deform it.
Is their any vibration or harmonics imposed on the line from the Warning Marker?
Based on the wind tunnel testing performed, no vibration was evident.
What cleaning is required?
As per normal Power Line Components, no cleaning is required, however, if desired, the Warning Marker can be cleaned with mild detergent and water
These Warning Markers Feature:
Latest technology articulated 3D design
Premium High - Vis Reflectors
Bayonet or Eye Ring fitting available
Customised flags or marker options available
Universal plastic clamp fits all lines/cables/conductors from 2-50mm OD
Aerodynamic design, rotates for high impact visibility
UV stabilised and tough non-conductive plastics
Anti-creep Clamp design
Installed with standard Live Line Tools
Specifications
| | | |
| --- | --- | --- |
| Shotgun Stick Adaptor Model No. | WM-CS-E-1A-RW | |
| Bayonet Stick Adaptor Model No. | WM-CS-B-1A-RW | |
Dimensions
| | | |
| --- | --- | --- |
| Overall Length (mm) | 510 | |
| Width (mm) | 330 | |
| Flag Length (mm) | 305 | |
| Flag Width (mm) | 330 | |
| Rotation (degree) | 360 | |
| Weight (kg) | 0.9 | |
Materials
| | | |
| --- | --- | --- |
| Clamp & Body | Nylon 6 | |
| Flags | Polypropylene | |
| Pins | Brass | |
| Bushes | Brass | |
| Threaded Shaft | Stainless steel | |
| Lock nuts | Stainless steel | |
| Reflectors | Acrylic | |
Ratings
Rotation (Initiating wind speed) - (m/s)
3*
Maximum Tightening Torque (Nm)
4.14*
Line Load (worst case scenario) - (N)
At Wind Speed of 10m/s
5.8
At Wind Speed of 30m/s
52.0
Estimated Life Span of Swinging Spigot
(Based on Fatigue Analysis
w/ expected environmental conditions)(Years)
15
* Calculations as performed at leading Australian University
NOTE: All Rights Reserved Patent Pending
Click on the link to download more information on the Balmoral WM-RW Series Overhead Conductor Warning Markers.